Program for Supporting Research and Development in Universities
​​​​
The Program for Supporting Research and Development in Universities
Research Ethics Workshop
The Ministry of Education's Research & Development office has held a workshop "Research Ethics" for Saudi universities in the cities of Riyadh & Jeddah during the period of 9-13 December 2018. The workshop's objective is to support scientific research and publication in KSA universities and was hosted by the RDO in collaboration with the American Association for the Advancement of Science (AAAS). Universities faculty members attended the workshop, which took place at Hayat Regency hotel in Riyadh & Hilton hotel in Jeddah.
The workshop's focus was on increasing researchers' awareness on research ethics and publication, which aligns with the Saudi Vision 2030 and KSA strategic priorities. The targeted audience were universities early career faculty members in different fields, which included science, engineering, and health.
The total number of participants in both workshops was about 120 researchers, both male and female, from 16 different public KSA universities. Researchers who have successfully completed the workshop have been awarded certificates of completion.
This workshop comes as a member of a series of workshops to be delivered physically and virtually in the near future with the goal to benefit researchers in various research-related subjects. ​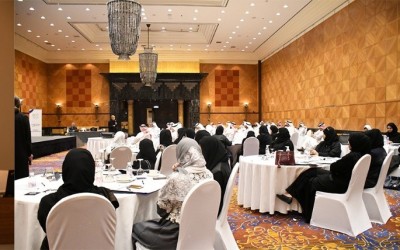 Source:
https://rdo.moe.gov.sa/en/Pages/Research_Ethics_Workshop_en.aspx
***
Trading & Consulting International, Inc.
Albert Beckford Jones, President and CEO Trading & Consulting International, Inc. (a Chicago based international business development, strategy implementation and management consulting company) is the Advisor to the American Association for the Advancement of Science (AAAS) Research Competitiveness Program (RCP).  Albert Jones assists RCP (and other AAAS programs) in their business development efforts with foreign governments, and institutions of science, technology, engineering, mathematics (STEM), research, innovation, and entrepreneurship; Albert Jones lays the ground work for international programmatic work and S&T collaboration. As the world's largest general scientific society, AAAS has a commitment to strengthening science, technology, mathematics, engineering (STEM) ecosystems. The Research Competitiveness Program (RCP) has worked for more than twenty years to provide strategic assessment, peer review, training, and programs for innovation and entrepreneurship for governments, universities, foundations, and other STEM organizations.
ألبرت بكفورت جونز
ألبرت ب. جونز هو المستشار الخاص لبرنامج الاتحاد الأمريكي لتقدم العلوم . و يقوم (RCP) لبرنامج التنافسية البحثية (AAAS) السيد جونز بمساعدة وغيرها من برامج ال RCP في إطار جهودهم في تطوير أعمالهم مع الحكومات الأجنبية AAAS ومؤسسات العلوم والتكنولوجيا والهندسة والرياضيات والبحوث والابتكار وريادة الأعمال في منطقة الخليج. ومن (STEM) مهامه وضع الأساس للعمل البرنامجي الدولي في مجال العلوم والتكنولوجيا. وهو أيضا الرئيس والمدير التنفيذي لشركة التجارة والاستشارات الدولية (يعد مقرها في شيكاغو في مجال تطوير الأعمال الدولية، وتنفيذ الاستراتيجية والاستشارات الإدارية). منذ ، قام السيد جونز بتطبيق معرفته الواسعة في مجال العمل والفهم الثقافي في2008عام وبناء القدرات على الابتكار في STEM ً منطقة الشرق الأوسط وشمال أفريقيا. وقد عمل كمحاور للعديد من المؤسسات الأمري كية التي تتعامل مع كيانات أجنبية. شغل سابقا منصب كبير مستشاري مؤسسة تنمية البحث المدني الأمريكية 1995وهي مؤسسة غير ربحية تأسست عام (CRDF Global) من قبل المؤسسة الوطنية للعلوم دولة. قاد السيد جونز مبادرة 30 التي أجازها الكونغرس الأمريكي ونشطت في أكثر من (NSF) الدولية ومبادرات تطوير الأعمال مع الحكومات الأجنبية ومؤسسات CRDF لتعزيز السلامة والأمن والاستدامة من STEM خلال البرامج والشراكات عبر الحدود في مجال العلوم والتكنولوجيا والابتكار.
اً ساهم السيد جونز في تعزيز التعاون العلمي والتكنولوجي بين الدول، بصف ا مدعو قد ساهم في مجموعة العمل المشتركة ً ته مراقب بين الوكالات التابعة لمكتب التعاون بين العلوم والتكنولوجيا في وزارة الخارجية الأمريكية المسؤولة عن تطبيق اتفاقية العلوم في (KACST) والتكنولوجيا بين الولايات المتحدة والمملكة العربية السعودية (عن طريق مدينة الملك عبد العزيز للعلوم والتقنية 2013-2011 ، في الرياض، المملكة العربية السعودية). في 2010عام ا لتطوير الأعمال في جامعة ً تم تعيين ألبرت جونز مدير ، الملك عبد الله للعلوم والتقنية و يعود الفضل إلى السيد جونز في إنشاء قسم تطوير الأعمال في جامعة الملك عبد الله (KAUST) للعلوم والتقنية، حيث كتب سياسة المشروعات التجارية الكبرى وصمم عملية بناء دراسات تجارية لتسويق مفاهيم العلوم ، شغل السيد جونز منصب المدير المالي2007-2006. من (STEM) والتكنولوجيا والهندسة والرياضيات والمدير (CFO) التنفيذي لأكبر شركة عالمية في شركة جنرال موتورز في الشرق الأوسط ، وهي إحدى أكبر الشركات في العالم. و على مدار حياته المهنية، شغل السيد جونز العديد من الأدوار الإستراتيجية والقيادية مع مجموعة ميريل لينش العالمية الخاصة، وكيكورب/ كى بانك، والإدارة التنفيذية لشركة بريتيش بتروليوم، وشركة فيرست شيكاغو كوربوريشن، التي أصبحت الآن الإدارة التنفيذية . كما عمل السيد جونز كمستشار لمجموعة متنوعة من شركاتChase Bank لدى المحلية والدولية في مجال Fortune 500 .1983 الأعمال التجارية الدولية والمشاريع المشتركة في أوروبا وآسيا والشرق الأوسط وشمال أفريقيا وأمريكا الجنوبية منذ عام
عاما على درجتي الماجستير: الأولى في الاقتصاد متخصصة في التنمية الاقتصادية الدولية (من جامعة 60 حصل السيد جونز ذو ويسكونسن ميلووكي)، حيث حصل على درجة البكالوريوس أيضا في الاقتصاد وحصل على درجة الماجستير الثانية في تحليل وإدارة السياسة العامة (من جامعة شيكاغو)، كعضو في إدارة مؤسسة ألفرد ب. سلون و قد درس في جامعة هارفارد كعضو في مؤسسة سلون )، وعضو PPIA منصب الرئيس الفخري لبرنامج الشؤون الدولية للسياسة العامة الوطنية ( ً . يشغل السيد جونز حاليا مجلس شيكاغو للشؤون العالمية، والمجلس الوطني ل ي ا ف مجالس إدارة مجلس كلية ً مجلس أمناء البرنامج الدولي. وقد عمل سابق هامبشاير، ومؤسسة جامعة كليفلاند ستيت، وكلية ليك إيري ومجلس كليفلاند للشؤون العالمية. لدى السيد جونز وزوجته ، أستاذة الأدب الأمريكي والبريطاني في القرن التاسع عشر، ابنة واحدة.